HOLLYWOOD - Walter Crewcut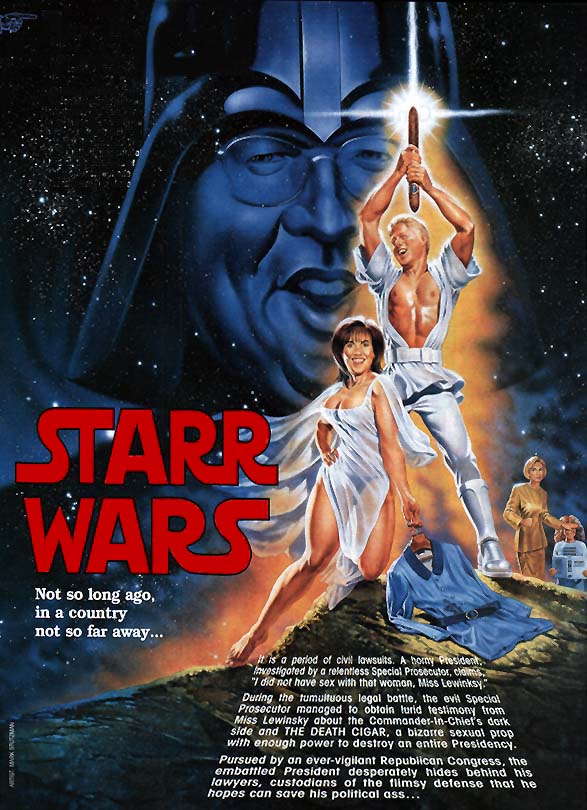 Our ace investigative team broke into, ahem, that is, got a preview of an upcoming film to be offered by Star Wars production company LucasFilms. The new film will be named Starr Wars and follow the trail of the evil Starr Vader.
Vader travels about the galaxy trying to thwart the efforts of Luke Slutstalker, who's out to spread his vision of peace and love among all species of life, whether they want it or not. One of the first Earthlings to be resucued from a drab and dreery life by Slutstalker is the young, nubile Loosly Moansky. The pair travels around the world sampling various Earthly delights such as pizza and cigars.
However, Slutstalker has more love to spread than one Moansky can accomodate. He leaves her "for the greater good of mankind" and tours the galaxy showing all the women his "magic Red-i staff" and telling them "I feel your pain. It will help if you feel my magic Redd-i staff."
Complicating Slutstalker's life is the goofy emotionless droid ICUBill, who follows him wherever he goes offering advice and demanding a "real relationship." ICUBIll aids Slutstalker in his quest to defeat the evil Starr Vader. After Vader's defeat, ICUBIll goes her own way and finds happiness with another droid, AChick2.
As this futuristic tragedy comes to a close, Slutstalker finds himself all alone with no one to show his "magic Red-i staff." In the final scene of the movie, he decides "I'll just play with it myself."